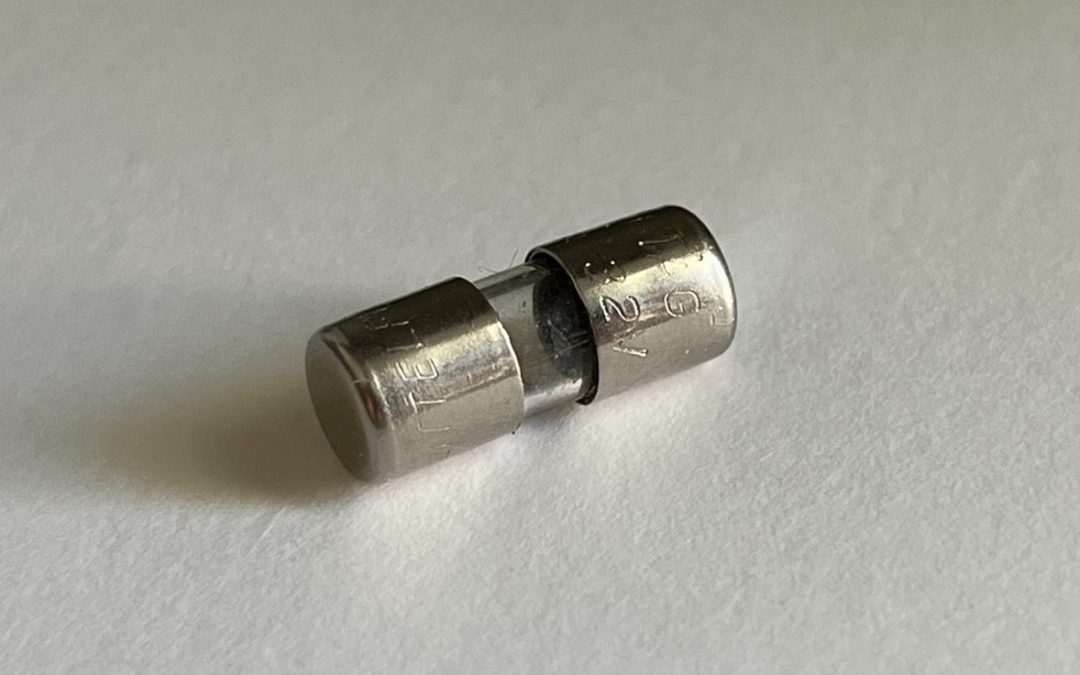 This week's post is by Niall White
My family recently acquired a very old, sparkly blue boat. Being somewhat new to boating, just about everything is an adventure! The boat operated very well the first few times we took it on the water, but we later found ourselves troubleshooting an elusive problem for nearly two hours before we could embark on our evening foray into the wake. The symptoms were simple…when turning the ignition key, nothing happened. After many online instructional videos, forums, and moments of frustration, we finally discovered a very small fuse, only about ¾' long, that had blown since our last excursion. After diagnosing this, it wasn't long before we were back on the water.
Obvious Symptoms, Hidden Problem
Though seemingly small and insignificant, this inexpensive part stopped the engine from running. The problem wasn't obvious at the outset (though perhaps it would have been to someone other than a novice…), but upon discovery, made complete sense. We noticed that other functions on the boat were working, like the radio, gauges, and even the starter (when jumped with a wire), not to mention that the boat still floated and boasted it's 1980 glitter, but a key component, the engine, would not start.
Problem Framing
In ITK, we talk about problems a lot. Typically, the word "problem" can be a very positive word to us, as we spend a lot of time helping ourselves and others find, frame, and mitigate problems. The Problem Framing Canvas, for example, asks questions like "why haven't we solved" the problem, "who experiences the problem", "who does not have it", and "what assumptions and biases surround this problem?" Interestingly, as I scoured the internet for an answer to my boating dilemma, I came across accounts of others with similar symptoms, though they were experiencing them with new and modern boats! Answering the question "who else has it?", this can be helpful to narrow things down, as in this case, it led me to believe that it wasn't a catastrophic engine failure (at least I let myself take a sigh of relief in believing so).
What Still Works?
Our problem framing canvas doesn't really ask questions about what IS in fact still working. This isn't necessarily the intent of the canvas, but I noticed that while diagnosing my problem, it was very helpful to note the functions of the boat that were still operating correctly, as noted earlier. Not only can it be positive and reassuring, remembering the things that ARE going right, and DON'T need fixing, but it can help narrow down the problem set, making it easier to diagnose the root cause. Maybe your team is struggling in one area but still has very strong talent, is good at their core function, and successfully brings a positive energy to their customer engagements. This could and should be celebrated!
Another tool you can use that does specifically identify "those things that are going well" is Rose, Bud, Thorn (RBT). For example, if you wanted the context of those "Roses" while you solved your problem, you could use RBT, and then trim down the "Thorns" (or problems), perhaps using a trimming tool like Stormdraining and then begin your problem framing canvas. We could call this the Not Just Problems Framing toolchain!
As ITK facilitators, we can often experience just a bit of tension as we push ourselves and others to dig deep into a situation to discover a problem. While I was trying to fix our boat, I felt feelings of frustration that my family was waiting, embarrassment that I wasn't making any obvious progress, and discouragement that we were losing precious time on the water. Similarly, a team might feel frustrated that a customer is left without a solution, embarrassed that their team can't seem to make decisions, and discouraged that funding, trust, and momentum might be dwindling. Perhaps it's helpful to ask yourselves in this situation, "what is still working?" or "what are we doing right?". As was the case with our boat, you might find that many things still work, eventually deducing that the problem is just a $1 fuse.