| | |
| --- | --- |
| Stakeholder Identification Canvas | |
What is it
Ideate a more comprehensive & representative set of relevant stakeholders to your project.
Why use it
Identify a more comprehensive set of stakeholders (including groups who may benefit or become burned).
Consider the needs and priorities of the larger community.
Encourage a diverse and inclusive approach to collaboration.
When to use it
When you need to consider the people involved, interested, or impacted by your project or initiative.
Use this before you develop your stakeholder engagement strategy.
Suggested Time
60+ minutes
Stakeholder Identification Canvas Worksheet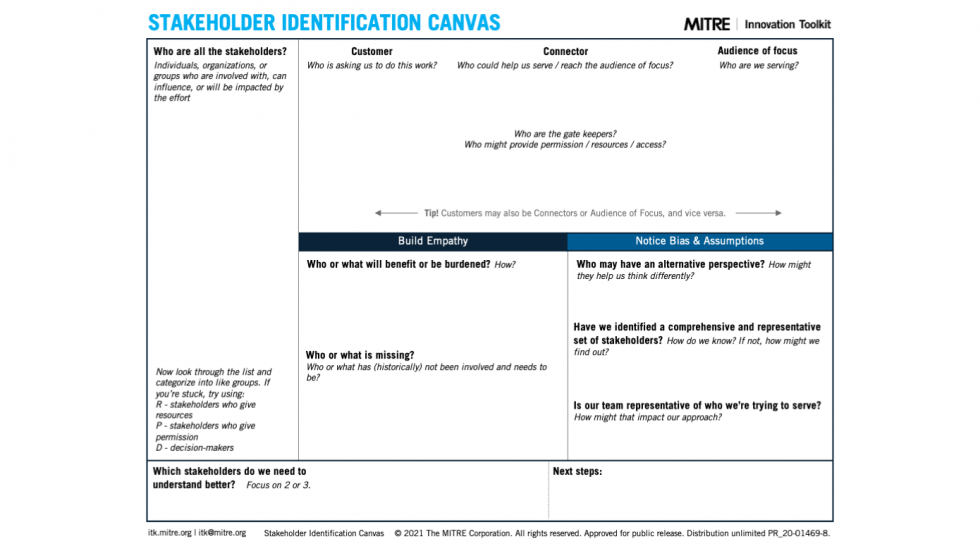 STEP 1
Begin on the left. In the "Who are all the stakeholders" area, quickly write down potential stakeholders for the topic. Once you're done, take a look through and begin categorizing & marking stakeholders into groups. If you're stuck, one common marking to use is those who provide resources (R), permission (P), and/or are decision makers (D).
TIP: Don't spend too much time in the initial "Who are all the stakeholders" area because you can continue to add stakeholders throughout the canvas and categorizing will help to expand your list.
STEP 2
Now move to the top right half of the canvas. Categorize your stakeholders by moving them to the customers, connectors, and audience of focus areas.
STEP 3
Next, move to the middle right half of the canvas. Answer the prompts in the "Build Empathy" and "Notice Bias & Assumptions" areas.
TIP: When Building Empathy, it helps to think about who might experience a difference or consequence from the effort.
STEP 4
Evaluate whether this is the full set of stakeholders that need to be considered for this effort. If not, continue to ideate until you can answer "yes" with confidence or have identified a strategy for determining how you might determine whether it is the full set or not.
STEP 5
Lastly, move to the bottom portion of the canvas. Based on the prior discussion, narrow down your list to 2-3 stakeholders that the team needs to understand better. Capture any actions that have arisen in the discussion
TIP: Considering primary, secondary, and tertiary effects of the effort will help you recognize a comprehensive list of stakeholders and vice versa.
Question Bank
Use these additional questions to help guide the problem framing discussion.
Who else is important in the customer's organization?
Who receives from the customers?
Who are the joint stakeholders?
Who has the problem that is being solved?
What community is being served (or not)?
Who is a beneficiary or becomes disadvantaged in this effort?
Who may have been overlooked?
Who is delivering or creating approaches (e.g., potential solutions)?
Who needs to be involved from the community to help inform or develop the approach?
Who is the champion of this effort?
Who are the enablers?
Who may help us get/create buy-in?
Who is an ally?
Who provides governance?
Who are the decision-makers?
Who needs to be involved (esp from the community) in decision-making processes?
Who may have a conflict of interest?
Who will challenge this effort?
Who will block this effort?
Who interfaces with whom?
Who is this project responsible to?
Who must we report to?
Benefits
Helps teams broaden their thinking to ideate a more comprehensive & representative set of relevant stakeholders, which is important for creating more equitable outcomes
Helps address the challenge listed in Stakeholder Map & Matrix of not knowing who to include
Challenges
To fully bring in equity lens, requires a facilitator who can help broaden/stretch the team's thinking to think of those who are underrepresented, at the margins/ edge, etc. This is not the usual default for most teams to consider unless already immersed in the equity space.
Need help using this tool with your team?