| | |
| --- | --- |
| COMMUNITY MAP | |
What is it
A fast way to capture and prioritize stakeholders.
Why use it
Bring a thorough understanding of who your stakeholders are, how they will be impacted, and how to interface with them throughout the process.
Develop a clearer prioritization of individuals to work with and engage.
When to use it
When the team needs to build a diverse and inclusive approach to collaboration so they can be mindful of the needs and priorities of the larger community.
Suggested Time
45+ minutes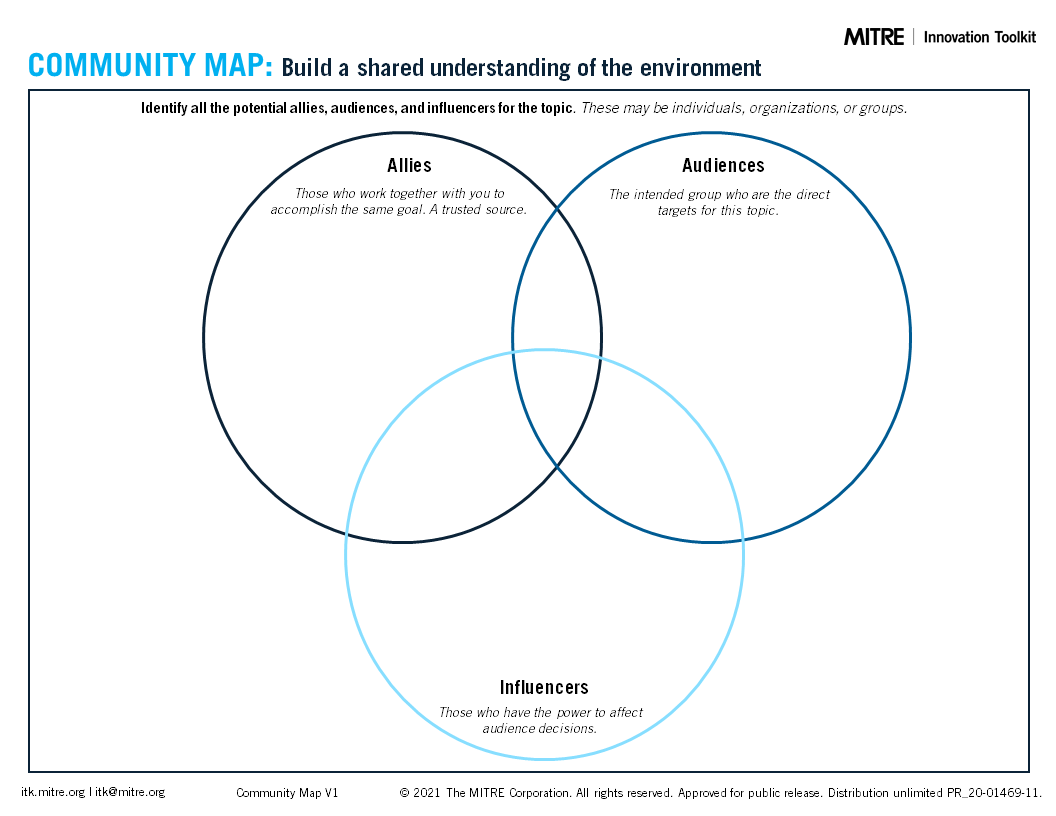 STEP 1
Identify all the potential allies, audiences, and influencers for the topic. These may be individuals, organizations, or groups.
STEP 2
Write their names in the circles below – some may fit into more than one category.
STEP 3
Identify which individuals are the primary contact for any individuals or groups identified on the map, if applicable.
STEP 4
Identify which individuals on the map are most important. Determine how best to connect and build relationships with them.
STEP 5
Talk to these people to help refine your ideas, or figure out how to fold them into your research process later to validate your work.
STEP 6
Participants and audience members should discuss what went well, challenges, issues, and opportunities.
Benefits
Quickly categorize many stakeholders
Challenges
Additional categories may be needed to more accurately represent the set of stakeholders
Need help using this tool with your team?