| | |
| --- | --- |
| PAINStorming | |
What is it
PAIN stands for Persona, Activities, Insights, and Needs – the four main research topics explored in this structured method for gathering insights about users or user identities.
Why use it
Improve the team's understanding of the user's behaviors, pain points, assumptions, and needs.
Focus the team on addressing actual user preferences.
Explore assumptions and identify the unknown gaps about users.
When to use it
When you need to better understand user identities, activities, and difficulties.
Suggested Time
30+ minutes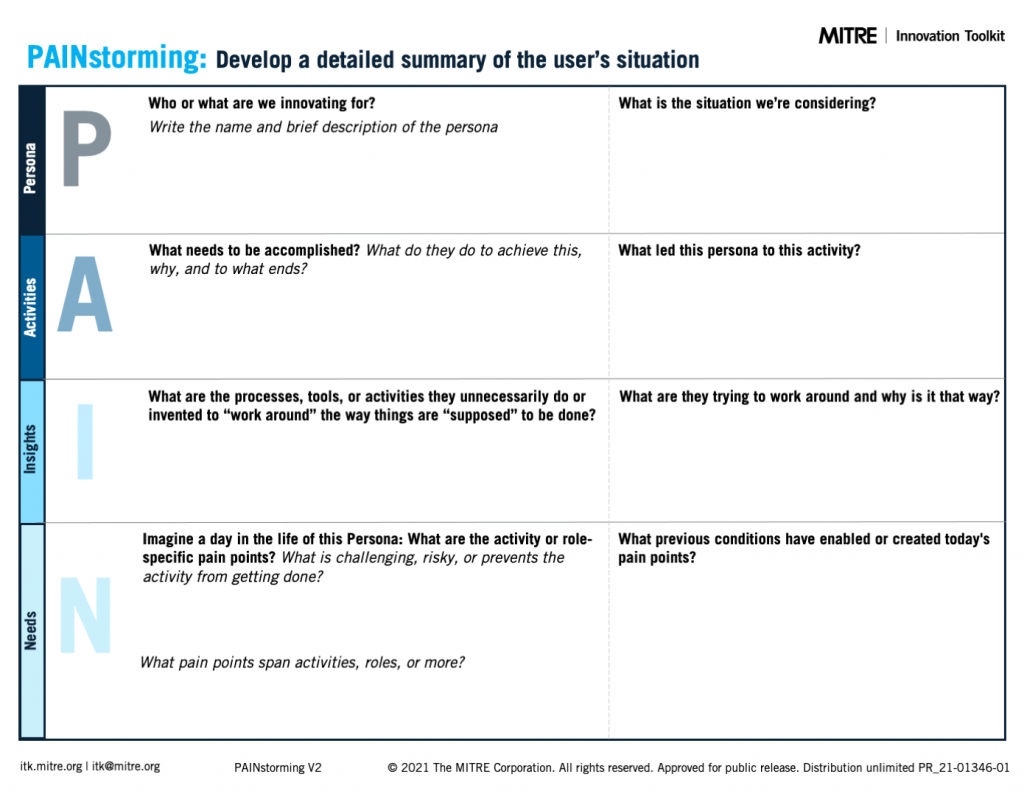 STEP 1
Identify an initial set of ideal users in the P block, perhaps using the Personas tool as a source of inputs.
STEP 2
Observe and/or interview the users to answer the questions identified in the A, I, and N blocks in the PAINstorming table.
STEP 3
Use this data to ensure that any proposed products, services, or interventions are aligned with actual user preferences.
Benefits
Helps generate thoughtful insights into the needs, priorities, and pain points for various users.
Make several of these to represent a wide swath of stakeholders.
Challenges
Generally requires some research – interviews, surveys, observations, etc – to develop accurate answers.
Risk developing a superficial representation based on assumptions rather than data if they try to generate a Persona without research.
Need help using this tool with your team?