| | |
| --- | --- |
| Mindmapping | |
What is it
Generate insights into relationships between concepts in a flexible and engaging way to visualize information.
When to use it
When creating, visualizing, and organizing ideas, either individually or with a group.
When the problem is not well defined or if a solution field is broad.
When you would normally hold a "brainstorming" session.
Why use it
Show the relationships between concepts and ideas, which are often difficult.
Foster creativity and generate a memorable final product.
Introduce new ideas and explore connections between them.
Suggested Time
30+ minutes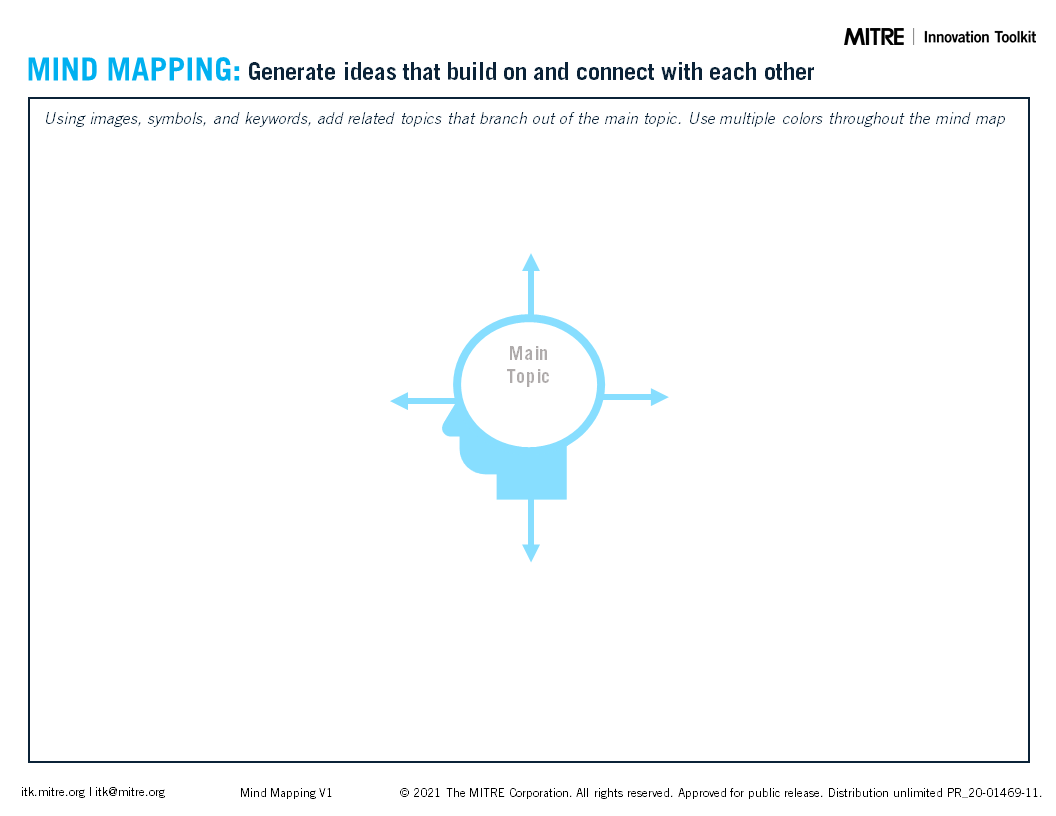 STEP 1
Write the main topic in the center of the paper or whiteboard.
STEP 2
Using images, symbols, and keywords, add related topics that branch out of the main topic. Use multiple colors throughout the mind map.
STEP 3
Add branches to each new entry. These branches may represent specific instances of a general topic or general instances of related topics. Keep the mind map clear by using radial hierarchy or outlines in each branch. Use emphasis and show associations between branches and entries.
Benefits
Easy and quick to use, and encourages users to identify multiple linkages between ideas, concepts, inputs, etc.
Challenges
Unlike the 8 blank petals in each Lotus Blossom, Mindmapping does not nudge users to generate a specific number of inputs. Thus users may stop before getting to the deeper levels of creativity.
Need help using this tool with your team?