I had the pleasure of interviewing Dan Ward, an outstanding member of the Innovation Toolkit (ITK) team and MITRE Innovation Catalyst. (Yes, that is his actual title. Fitting, right?) Dan describes himself as a positive, energetic person and I think it is safe to say that anyone who meets him would agree. Dan brings oodles of fun, positive energy to every ITK function— enough to fill the room and even take home leftovers. We are pretty lucky to have him on the team!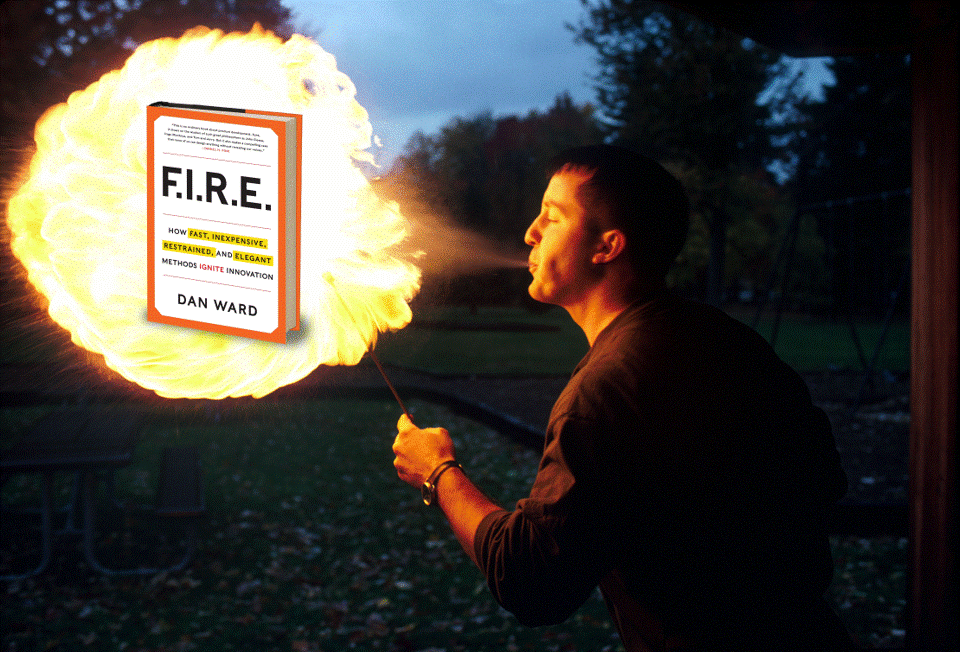 Dan has an impressive professional bio. He spent 20 years with the Air Force on active duty, retired, started an innovation consultancy, and came to MITRE to get the best of all those worlds. He's an author, researcher, professional speaker, engineer— and let's not forget, a fire eater! —you know, the people who stick flaming torches down their throats and blow giant fireballs from their mouths. (That tidbit doesn't always make it to the professional bio.) He started doing magic shows when he was 10, then advanced to juggling, and then progressed fire eating. Naturally. (Yes, he likes spicy food. More about that later.) Now also seems to be a good time to put a plug in for his book: F.I.R.E: How Fast, Inexpensive, Restrained, and Elegant Methods Ignite Innovation. If you haven't yet already, check it out. It's one of his many claims to flame—uh, I mean fame.
After retiring from the military, Dan enjoyed the freedoms that came with independent consulting, but missed being part of the long-term goals and objectives that come with working on a larger team. A longtime friend who worked for MITRE and is also named Dan Ward (What are the chances?), invited our Dan Ward to apply for a new innovation and experimentation job opening at the company. Dan gave it a whirl and was struck by MITRE's hiring practices. At his job interview, he found that MITRE wasn't trying to fit him to a specific role, but rather change the role to fit him and his strengths and interests, making for an overwhelmingly positive experience that ended in an offer he couldn't refuse.
At MITRE, Dan's day job is working on defense acquisition policy. The Pentagon recently rolled out a middle-tier pathway of acquisition to speed up the process and reduce management overhead and oversight. Dan helps shape and craft that policy. He trains program offices and MITRE folks on what it means, how to use it, and how to implement acquisition authority. This work mainly consists of training, writing, consulting, and research.
 Dan's passion project at MITRE is ITK. When asked to describe the ITK team he said, "A lot of what this team does is help groups work together on difficult technical and organizational challenges. We help with planning, communication, problem-solving and decision making. That's what a lot of these tools come down to, helping human beings talk to each other in productive ways and solve problems as quickly and effectively as we can."
 Dan's role on the ITK team includes helping develop tools, facilitate innovation sessions, help MITRE teams understand what innovation is and how to use the tools, use the tools with them, and train people on how to use the tools on their own. As he explains, one of the ITK team's core goals is to democratize innovation and make sure people understand innovation, know how to do it, and have access to the necessary tools.
The ITK team is unique in that it has a shared leadership structure. It is egalitarian. Dan pointed out, "I'm often described as the leader just because I am the oldest, but I try to correct that perception whenever it comes up."
 The ITK team is also bound by strong ties of friendship. Throughout the interview, Dan often returned to how he values the team. When asked what the cover should look like if ITK were featured on a major magazine, Dan said, "I hope it would have a picture of all of our faces. As cool as the toolkit is, the most important thing we have built is the team." When asked what the worst-case failure scenario looked like for ITK, Dan said, "A future where we aren't even friends anymore. That feels like the most dystopian scenario. Or there is another failure where people point to ITK as the main reason for the failure. Of those two, not being friends anymore would be the worst."
 The ITK team has a tradition of celebrating failure with failure cake(which we've blogged about previously). Since learning from failure is an important part of innovation culture, and we have had several occasions to literally eat failure cake, I asked Dan what his favorite failure cake flavor is. Next to chocolate, he said, "I like failure cake that tastes like learning." When pressed for a flavor that most closely resembles the taste of learning, Dan replied with, "Tabasco. Hot and spicy with a little bit of pain but in a good way, and I kinda love it." (Note to team: find a recipe for Tabasco cake.)
All in all, the one message that Dan hopes people really take away from ITK is, "You can do this. These tools are accessible. They are playful. They are usable. Innovation doesn't need to be intimidating. It doesn't need to cost so much or take so long. We can all do something that makes a difference. And I think we all have an obligation to be innovators—question the status quo, question our assumptions, and work well with the people we work with."