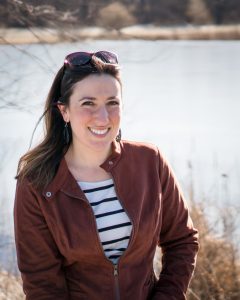 Stephanie Medicke is a Southern California transplant with an immense capacity to inspire and motivate others. Her fun outgoing nature draws people in, and her sense of humor and kindness wins them over. She is a driven leader who asks important probing questions and always encourages others to consider all possible avenues, viewpoints, and risks. She breaks down barriers and challenges assumptions while helping people find common ground. Stephanie is a positive force on Team Toolkit and in this interview we explore how she got here and shine a light on her unique perspective.
In addition to being an innovation catalyst on Team Toolkit, Stephanie is a Mechanical Engineer and Group Leader at MITRE. She is the direct supervisor of a team of engineers supporting a myriad of airborne system integration projects. She works to grow and develop her employees to reach their potential and helps develop and execute department strategy. In her technical work, Stephanie manages multiple tasks within a project, strategically organizing the work such that it amplifies the impact to the sponsors, while simultaneously meeting tactical and strategic needs for the enterprise.
What did your educational journey and career path look like?
It's interesting to talk about career path, because I feel like I am still at the beginning of mine. In high school, I had every intention to go into psychology. I was not exactly sure what that meant, but I had a passion for learning how our brains work. I honestly didn't think I was smart enough to become an engineer. After applying for college, I had the opportunity to visit my cousin's mechanical engineering lab. I was accepted as a psychology major, but after that visit I knew that I wanted to change my major.
So even before I started the semester, I emailed the University of New Hampshire to see how I could transfer into the College of Engineering and Physical Sciences. I figured that if I hated engineering I could always transfer out and I could continue taking psychology courses even if I switched majors, but I knew that I wouldn't be able to take engineering classes if I transferred out of the school of engineering.
The Society of Women Engineers (SWE) played a huge role in me staying in engineering. I was very active in the organization on campus and eventually became the president of SWE. When I was looking for internships, I thought I was going to go into the biomedical field, but I liked the variety that MITRE had to offer. So, I started my career at MITRE as an intern.
Based on my interest in psychology and the fact that I like working with people and teams, I knew that I would like to be a people manager. I wanted to get more involved with the people side and the business side of work, so while working at MITRE, I got a Masters of Science in Engineering Management at Tufts University Gordon Institute. I like my job because I can focus on the bigger picture, I help people get where they want to go and help the sponsors solve their problems. Airplanes fascinate me, but they don't necessarily excite me. I love leading teams, which is something that I've done since the beginning of my career.
How did you get involved with ITK?
It's a bit blurry now. I remember a few key moments like working with a startup, meeting team members, and doing the initial survey and market research of innovation tools, but I don't remember the very beginning in much detail. What I do remember is that it was exciting in a different way than it is now.
There was a time when I was struggling to decide if I wanted to stay at MITRE. ITK satisfied my aspiration to get involved in the business side of things. I was looking for the next side project. I was so fortunate to find other people who were willing to explore intrapreneurship on their own time. I enjoyed learning from other people, learning human centered engineering and meeting new people. It was fun! I liked going out to a café with the team and talking things out. It felt like we were going to make a difference and that we were learning and growing. ITK felt dynamic and exciting when projects felt stale. It felt good to work with other excited and engaged individuals who are interested in the same things.
What first drew your interest; what keeps you involved?
I think what drew my interest at the beginning was learning more about design thinking and human centered design and getting to expand my network. What keeps me, is all of you. The friendships that we created are what keeps me involved, even more than the content and activities themselves. The impact that we are having keeps me here. The friendships are first and impact is a close second. Facilitating workshops is good, but it's not nearly as fun as hanging out and working with the team. We not only have fun in happy hours and outside of work, but actually have a lot of fun doing the work.
How does ITK and the tools relate to your engineering work?
I'm somewhat of a facilitator on one of my projects and as a supervisor. I'm not necessarily always the one contributing technical work, but I'm helping other team members think differently about their work and improve it. I help them figure out if they are solving the right problem and help them come up with more ideas. I push the team to ensure that have explored the problem space enough and that they don't just go with their first solution. I don't have them fill out a canvas every day, but I do make sure that I ask the questions that are embedded in the tools. I definitely use the mindset that is embedded in the tools.
How would you characterize the impact of ITK?
First and foremost, it is about breaking down mental models and helping people think differently. These canvases are not particularly earth shattering. It's the thought behind them and the conversations that people have while using them that are most important. People don't always have these conversations on their own, and the tools help people think differently and provide structure, but it's not special.
And there is a reason that it's free to use. These are resources that should be shared and accessible by all, but we find that people are not asking these types of questions and are not having these critical conversations naturally.
One of my biggest goals on any project is having people communicate more and I think these tools help with that. We are helping people, who are not on the same page, communicate more effectively, or help them uncover hidden assumptions. Second, it's important because we and our sponsors are so task-saturated and the problems we have are so complex. Sometimes when we get busy, we forget why we are here, what's the purpose, and what's the point. The tools provide the structure and the outlet to have important conversations to make sure your team is solving the right problem for the user.