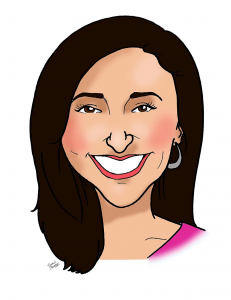 What do caricatures, public speaking, and user experience design all have in common? I was fortunate to answer this question when I interviewed Rachel Gregorio. She's tailored her career around her talent as an artist and passion for user centered design. In addition to being incredibly talented at the aforementioned disciplines, Rachel is kindhearted and can be trusted to handle any difficult situation with grace and professionalism. AKA, she's the type of person any team wants around!
As a User Experience Designer at MITRE, Rachel is also a founding member of "Team Toolkit", the group that curated a list of innovative tools for The MITRE Corporation [e.g., The Innovation Toolkit (ITK)].
Growing up in the "Disney Era"
Early on, Rachel recognized her love for art. As a young child, she started drawing her favorite Disney characters and was taking cartooning classes by age 7. For those of you wondering what is meant by "Disney Era", all you have to do is ask anyone that remembers the releases (and classic sing-alongs) of The Little Mermaid, Aladdin, The Lion King, or Beauty and the Beast and you'll get your answer. Rachel went from using the book How-to-Draw Mickey and Friends to starting her own caricature business when she was 11. By 16, she was drawing caricatures in Boston's Fanueil Hall and conversing with strangers. She's even illustrated a few children's books! These communication skills and experiences being in front of an audience continue to help her today as she facilitates ITK workshops (more on this later!). Rachel promised to make a caricature of Team Toolkit if we can find our way into a major business or innovation magazine!
Making design part of your job
Pursuing an art degree seemed like a natural fit, but Rachel wasn't sure this perfectly aligned with her career goals. Throughout her early career as an artist, she'd learned the importance of good communication. So, why not simply pursue two degrees? (um…because its hard?). And that is exactly what Rachel did, double majoring in Communications and Studio Art at the Boston College. Rachel started her career in marketing, as it seemed like a natural blend of her two majors. Not stopping there, Rachel went back to school for a master's degree in Interactive Media. Some courses in UX design helped her discover an opportunity to combine her interests in design, communication, and business, and she decided that this is what she wanted to do.
Team Toolkit, enter stage left!
After starting at MITRE, Rachel found herself attending an innovation interest group organized by Dan Ward, a fellow Team Toolkit member. It wasn't long before Rachel, Dan, and a few other soon-to-be ITK founders (Aileen Laughlin, Stephanie Medicke, and Jessica Yu) got connected with a Boston startup to provide some feedback on their products and user-centered best practices. They kept using repeatable methods, so they decided to make an Innovation Toolkit curated for MITRE. Thus, Team Toolkit was born. Rachel describes the ITK as methods that bring people together, allowing more affective meetings that enable them to achieve their goals, solving their problems together. Though the ITK is a significant part of Team Toolkit's responsibilities, a significant amount of time is spent preparing for and facilitating "workshops". Being front and center for what can be hours or even days is pretty normal. Rachel attributes some of her comfort in front of an audience to her involvement with Toastmasters, where she led the chapter at her first job. Not bad for someone that says they were a bit shy beforehand!
Have a Slice of Failure Cake?
When asked what some of her "best failures" have been, Rachel talked about the importance of experimenting with your career. She suggested finding roles and people that you like, searching for creativity, working it into your job, and constantly reflecting. Rachel noted that we put this to practice on Team Toolkit. We celebrate failure by learning from it. We're lucky MITRE has been so supportive of our "intrapreneurship."
The TEAM of Toolkit
If the reader takes anything from this article, Rachel wants it to be this: If you can find the right people that have the same passions and interests as you, you can make your job so much more than it is on paper. The challenge is finding those people; Team Toolkit is lucky to have done so.